Hey Dolls,
I recently came across the – now get this name : Lancôme Juicy Shaker "woop wooopp"
The cool part is the bi-phase formula. Shake your gloss and the pigments mix with nourishing oils to keep lips soft. The more you shake it, the more pigment, so It's up to you how strong or bold a colour you want.
I ordered from Selfridges as it's exclusively there and it's my most Fav shop in the whole world so .. naturally !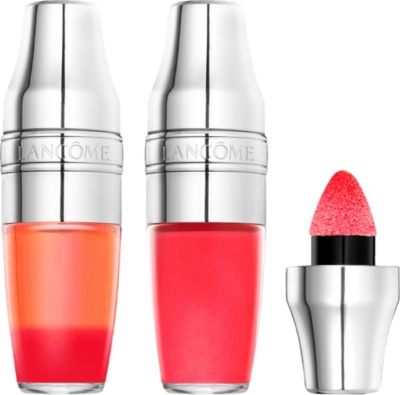 I'm not going to upload a pic of me wearing it cos my mum was like no way :') but I found the exact shade regardless of lighting and stuff; on Google here's a swatch.
Also my friend brought 381 Mangoes Wild – Pinkish-orange and It's mango flavour.
Here are all the shades and some more pics in order of colour.
283 Berry in Love – pink and purple with blackberry aroma
300 Lemon Explosion – hot pink with a refreshing aroma of soda
301 Meli Melon – soft and juicy pink with melon scent
313 Boom Meringue – salmon
352 Wonder Melon – bright fuchsia with the scent of watermelon
372 Berry Tale – intense pink-berry with black currant aroma
381 Mangoes Wild – pinkish-orange with mango flavour
400 Mint to Be – mint-blue gives lips a natural pink hue with a magnificent pearl scent
102 Apri Cute – soft, sunny orange with apricot aroma
142 Freedom of Peach – peach with fresh fruit aroma
341 Cherry Symphony – ruby red with cherry aroma
154 Great Fruit – cherry-orange with grapefruit aroma
166 Walk the Lime – spicy orange with cinnamon aroma
252 Vanilla Pop – delicate pink with a discreet vanilla flavour
Go and buy it Lovelies ❤