So Finally series two of outlander is back. This is how the episode begins:
In case you didn't notice, the "new" opening credits added a twist to the "sing me a song"  by changing the lyrics to French woo J'adore la francias langue donc je suis hereux!
It all starts with Claire lying on a field remembering-  all. She has returned to the 20th Century its 1948 so that's around about 200 years ahead.
We see her walking alone on a road when some old gentleman finds her, she asks in a rather harsh manner
Frank is there waiting for her. It's been two years. All that time he believed she was out there – that is dedication!
I love this moment when she is in the garden remembering what Jamie said </3
She tells Frank she is pregnant – now –  he had remained calm all this time however, he lost his cool when Claire broke the news. There's this moment where he is elated at the news only to realise that the baby is not his.
I must say Frank is a real gentleman throughout. I mean after getting worked up about her being pregnant he returns accepting everything that had took place – Now that takes real guts. It shows he loves her far too much to give up on her now !
However he states that he has conditions in order for them to move on and live a life together.
1 – The child be raised as his.
2- She forget about Jamie and her past ….
and she accepts. OMG 😥 ..
I love that scene where frank takes Claire to Boston as they will start a new life there away from the press. He's been offered a job at Harvard; stepping off the plane, Frank holds out his hand, Claire is ready to take a hold but suddenly the gentleman's hand is different and the scene has changed.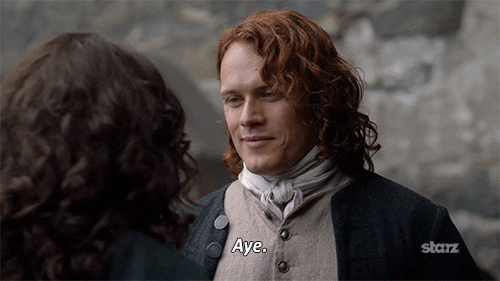 Jamie is still in a lot of pain from his injuries – bless him .
They are trying to spy on the Jacobite rebellion whilst hiding in France (Jamie's a fugitive in Scotland so he couldn't stay there)
They have escaped Randall but that does not mean there are not more enemies to come!
So will Claire be able to adjust to life in Boston?  I know for certain her heart has been given to Jamie … and mine too.
Cannot wait for the next EP ❤