It's devastating what's going on around the world .
With what happened in Nice . People only wanted to have a nice day with family and friends  to celebrate Bastille Day which turned into a horrific terror attack.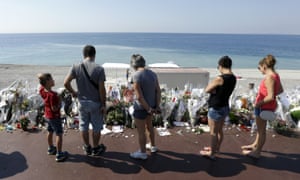 The four frightful attacks that happened in Germany .Within a single week, the country now has experienced four massacres or attempted massacres. A death toll of at least 13  and many injured.
It all started last Monday night, when a 17-year-old Afghan used an axe to attack passengers on a train near Wurzburg, injuring four  before being shot by police. Then on Friday, an 18-year-old German-Iranian man went on a shooting rampage in a shopping mall in Munich. On Sunday afternoon, a 21-year-old armed with a machete killed a pregnant woman in the city of Reutlingen, injuring two others. Later the same evening, a 27-year-old blew himself up outside a music festival in the small city of Ansbach, ending his own life and injuring 15.
In Japan A man armed with knives attacked a care centre leaving 19 people with disabilities dead.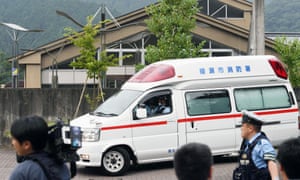 The killer apparently has sent a message to the parliament before, stating:
"I envision a world where a person with multiple disabilities can be euthanised, with an agreement from the guardians, when it is difficult for the person to carry out household and social activities,"
the letter also stated he would :
"wipe out a total of 470 disabled individuals" by targeting two facilities for disabled people during the night shift, "when staffing is low".
he was sent to hospital after boldly stating his feelings but was released on 2nd March . Why wasn't he monitored after?
This very moment that I am writing this, two armed men have taken hostages at a church near Rouen in northern France.
It's this that makes everyone point fingers and blame others and that is what these people want. How tragic is it that out of billions of humans there are 10 -15 sick twisted individuals who can change the view of thousands if not millions. Making one another against each other. Spewing hatred between different Religions , Races and Cultures.
You know when you see movies and  It's all over the news how those "Criminals" and "Villains" are destroying mankind, destructing the world and creating hate between those who love .. It's becoming reality and It sucks !
The fact that their revolting mind games and plans are working breaks my heart. I wish that more people come together and stand united in a time like this. I pray that we can all fight back against these horrendous attackers and make the world a more safer and peaceful place.
I hope one day we can go outside and be able to spend a normal day without being afraid.
But for now, one thing that I know is that the world is extremely unsafe and too cruel for the Innocent .
 Prin