At first I was a little apprehensive about watching this movie because I just felt that nothing could compete with Harry Potter. I was worried with the fact that this movie would spoil the past movies for me and I already had such high expectations. However, finally I managed to make time and (took me 3 days-  life of a uni student) I watched Fantastic Beasts.
Now get ready for what I thought..
I liked it , A LOT. However, for me it cannot surpass Harry potter in excellence. For me those movies were sheer brilliance. Saying that I really loved this movie because it brought back the magic wizarding world and for those who have seen and read all the books it was easy to understand all the spells that flew our way 🙂 .
Let me share a little about this movie without giving much away , just some brief details :
It's 1926 , "Magizoologist"  and " British Wizard"  Newt Scamander travels by ship to New York now its just a stop off as his actual destination is Arizona. Whilst he roams the streets of New York he witnesses a lady ( No- Maj who is basically a Muggle) who claims there are witches in the city (mainly because of recent catastrophic events that take place).
Now whilst hearing her protest his Niffler ( a magical creature) escapes into a bank and that is where he meets another No Maj called Jacob who is an absolute sweetie. Well because of unforeseen circumstances Jacob ends up assisting Newt in hunting down his magical creatures.
Along the way you meet a lot of other characters such as Tina Goldstein ( she used to be an auror) and she has been spying on newt since he arrives.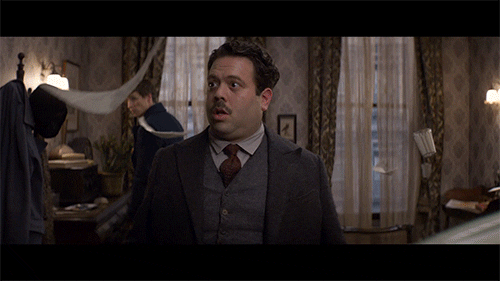 You explore a different side to the magical world other than the one we have previously seen. I learnt about an  Obscurus ; a dark, destructive parasite that develops inside magically gifted children if they suppress their magical abilities and the Magical Congress of the United States of America (MACUSA) .
Tina's sister Queenie is genuinely a darling and I love the friendship between her and Jacob. I don't want to give more away but the adventure they experience and the friendships they make along the way is what makes it more magical not to mention the odd alohomora here and there 🙂
There's this one scene where Newt and Queenie are discussing schools and it just gave me a flashback and yno all those rushing memories of Harry Potter – I loved this bit actually made me want to cry for some reason.
Jacob Kowalski: Did you say school? Is there a school? A wizardry school here? In America?

Queenie: Of course – Ilvermorny! It's only the best wizard school in the whole world!

Newt Scamander: I think you'll find the best wizarding school in the world is Hogwarts!

Queenie: [Incredulous and semi-insulted] *Hogwash!*