It's a thing of wonder.
This is a pie burger – a burger in a pie.
It's clearly not one for those on a diet but I am crazy about burgers so let me marvel at its sheer beauty !
Here's how to make your very own pie burger – It was only 3 days back it was national pie day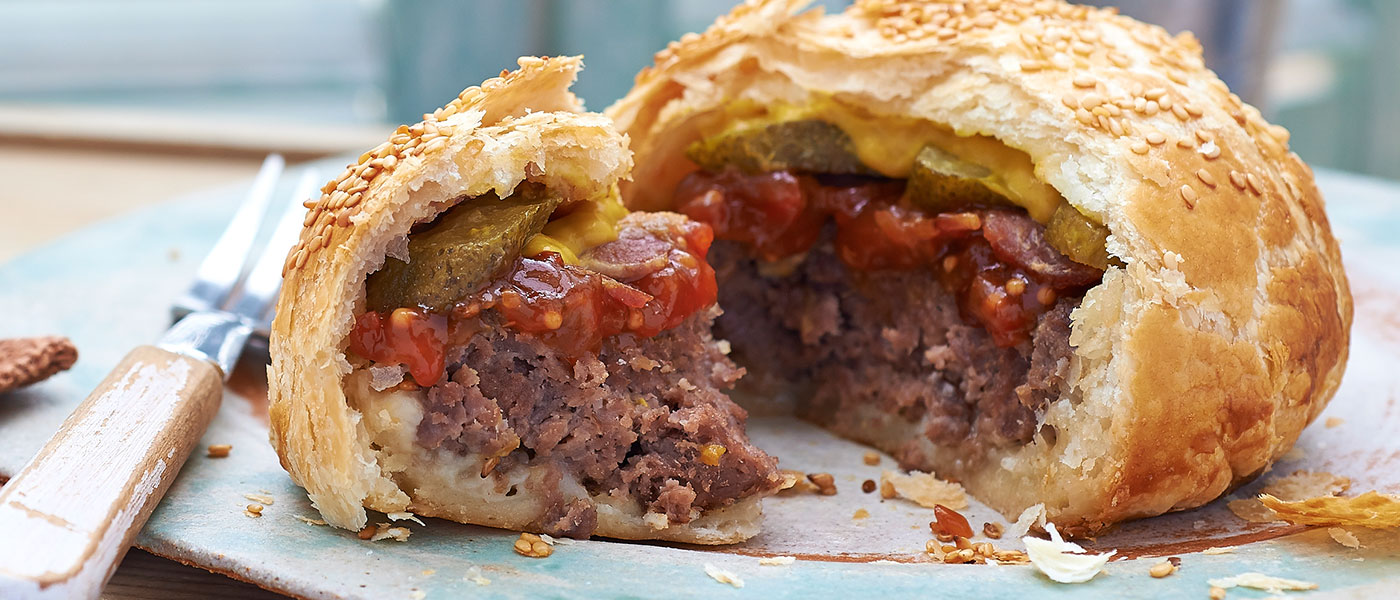 (Serves four, apparently).
Ingredients
600g burger beef mince
Salt and pepper
Oil
4tbsp Branston Tomato & Red Pepper Relish
4  smoked turkey rashers/strips (grilled & cut in half)
4 gherkins, sliced
American mustard
4 slices of cheddar cheese
2 sheets of puff pastry, (pre rolled)
Egg yolk (for pastry brushing)
Sesame seeds to sprinkle
Method
1. Shape the meat into four 8cm burger patties, season each side cover with oil and place into a hot pan to quickly seal (15 seconds each side). Allow to cool.
2. On top of each patty, spoon 1tbsp relish and cover with turkey rashers. Place the gherkins carefully on top, add a touch of mustard, and then layer with cheese. Rest in the fridge until needed.
3. Lay the pastry out and, using a bowl that's about 16cm, cut four discs. Layer the trimmings, re-roll the pastry and then cut four 8cm discs.
4. Remove the burger stacks from the fridge and over one of the stacks, carefully place the larger of the pastry discs over and smooth around the edges and sides (like icing a cake) making sure you keep a burger-like shape.
5. Brush the smaller disc with egg yolk and place under the base of the burger. Seal the two pastry discs together. Rest in fridge for 10 minutes to firm.
6. Pre-heat oven to 220C/gas 7. Place on non-stick baking tray (or covered in non-stick baking paper) and brush all over with egg yolk. Sprinkle with sesame seeds and bake for 20-25 minutes until golden brown. Rest for 5 minutes before serving.