So, you must have all heard about Marie Antoinette – her famous line?
If the people have no bread,
Oh dear oh dear Marie, no you didn't !
She was born in the year 1755 at Hofburg Palace , Vienna. Now what many do not know is that her real birth name was Maria Antonia . Maria was the youngest daughter of Empress Maria Theresa ruler of the Hapsburg Empire and her father was Francis I, ruler of the Roman holy empire .. so no pressure there , just the fact that her parents were 2 of the most powerful people owning and ruling not one but 2 empires at once..
During her childhood when she was 7 she met Mozart ( who was two months younger and an absolute musical genius ) so she knew her way around the social circle even at 7 – hell my social life is ordering a burger at Hardees let alone meeting Mozart – Gods sake !
Now many people stated that she was very pompous and had an ostentatious lifestyle – do you blame her though? Think about it ? I'm not saying she's an angel or anything but to be raised in a life where your parents rule several countries and are heirs to thrones for her it would only seem normal to be privileged. she literally was the child who was born with a sliver if not gold spoon.
Marie was tutored by the best of teachers, she was known to have a beautiful voice , was an exceptional dancer and had talent in playing the harp, flute and harpsichord.
However, her education was quite the contrary to her artistic side. Apparently she could not write properly in German or any common language used at court even at the age of 10 (now we don't know if she was dyslexic or not so again I am not one to judge).
In February 1770, Louis XV asked for her hand in marriage to his grandson. Now as his grandson was not present for the ceremony she had a proxy marriage to Dauphin of France with her brother Archduke Ferdinand standing in for the dauphin .. ( I find that a little repulsive- I mean I know its proxy but still, couldn't her cousin or someone have taken that place, not her brother) Anyways !
At first Marie was loved by the people but sooner than later the people grew hostile towards her, she was known to spend heavily on clothes and gamble – A LOT.
Around that time the riots began for flour and bread and I assume that is when her quote became known – till this day.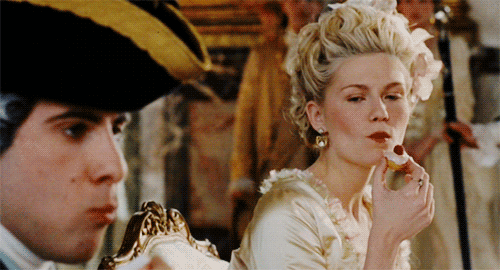 Now the fun part –  you will have to wait for the next post – All the extravagant meals ate by the Queen herself and the colourful desserts shall all be described .. I know you want me to write it here but nooo .. just wait a couple of days for the next post – I'm sure you will LOVE IT .