Wow, what a movie. Was it just me or did it feel like a twist of Hellboy along with scenes & music similar to Pans Labyrinth. There's so much blue. Blue tones In the background, blue water – Just blue <3.
Now let me elucidate (ohh fancy). Eliza who is the main protagonist in this film is mute. We as people are not as aware or alert when it comes to communicating with someone who isn't born with something considered so normal. When one is not blessed with all five senses it heightens the remaining ones. Eliza displays how she deals with being different. Her uniqueness is whats ever so fascinating. She tries to fit in, yet she will always remain alone.
Eliza's job is as a janitor at a secret government laboratory in Baltimore – this is during the Cold War in 1962. Living all by herself in a flat above a theatre, she has only two main friends. One is Zelda who is an African-American lady, she too a janitor who aids in Eliza's interpretation. And Giles, a painter who attempts to crack into the advertisement agency with his works yet is struggling ( we find out soon enough he is also gay). Eliza discovers how this creature is not violent towards her, in fact he is lonely as well as scared like her.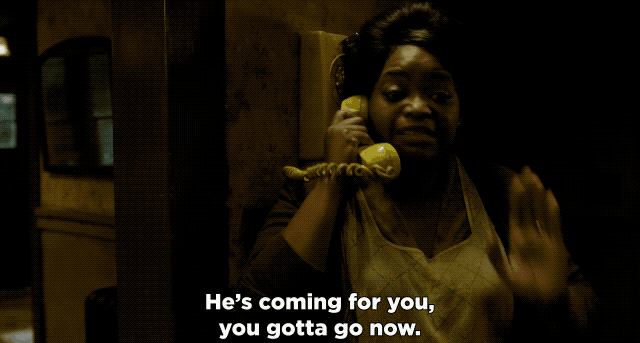 There's more to a person than just speech & that is exactly what del toro has portrayed. Do we view people for their appearance or how they talk? For being normal? Yes. we do. But what we see here is how Eliza views this so-called "ugly thing" as something special – whilst the feeling is reciprocated. If you don't find that captivatingly beautiful then what are you? Seriously !
So, General Frank Hoyt commands this new-found creature to be dissected or Vivisected (this is so gruesome, apparently its cutting up a living organism – how brutal). The scientist Robert implores them to not harm or kill the creature (he's a soviet spy but such a kind-hearted human, it doesn't even cross ones mind).
Anyways, after hearing of the henious crime they are about to commit, Eliza plots to save the creature before the others can get their hands on him. What a nail-biting scene – your heart is in your mouth.
Now what happens next is simply stunning :
One understands this in-depth meaning to life. A connection. Perception through expressions, sign language & a little bit of music. To a normal person it would seem incomprehensible to follow daily routines such as a job or social life without a voice, yet Eliza displays how it's still possible… with more!
planning to release him into a nearby canal that leads to the ocean, Eliza is caught by Strickland ( he is vile and I loathe him) . He shoots however, the creature heals himself and goes on to slash Strickland's throat. Eliza has been badly shot, the creature takes Elisa and jumps into the canal, where deep under water he heals her and transforms her neck scars into gills. How romantic ❤ !
The shape of water insinuates how there's always hope. You must always remain positive, believing  in what you most desire. Eliza embraced love, she didn't see the creature as "JUST" a creature – but something with a heart & soul. It goes to show that there's more to a person (or thing in this case) other than appearance (or a voice).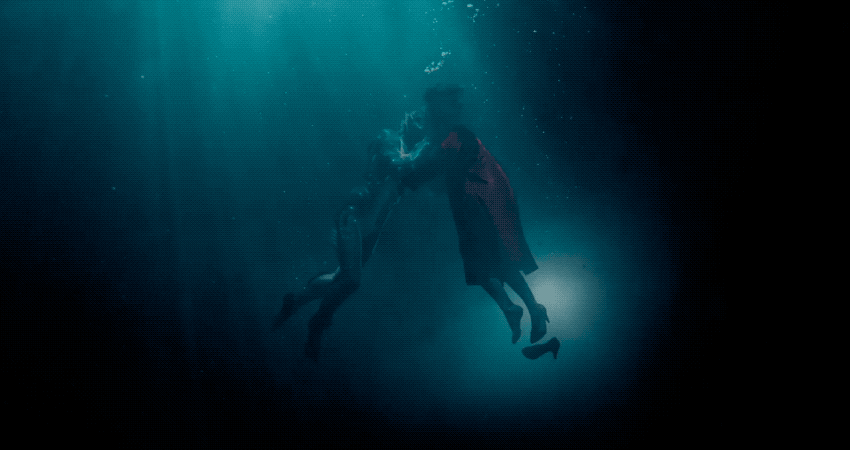 I loved this quote from the movie
" When he looks at me, the way he looks at me… He does not know, what I lack… Or – how – I am incomplete. He sees me, for what I – am, as I am. He's happy – to see me. Every time. Every day. Now, I can either save him… or let him die" .