Hello my Prins . I haven't done a makeup post in a while so here are some products that I took a fancy to!
Aerin is the granddaughter of Estee lauder. She has branched out from this brand and it goes by the name " Aerin or Aerin lauder" for those of you who cannot pronounce it – it's basically air rin – trying to simplify things for you ❤
So here are a few products:
Tuberose Le Jour parfum spray 50ml – £150.00
Judging by the name the scent is of a tuberose (duh). What I found intriguing about the description was   "Aerin captures the fresh, bright perfume of delicate buds gathered in India at dawn" .How pleasant does that sound!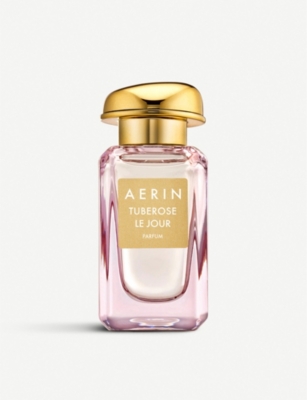 There's a Tuberose Body Wash – £48.00 along with Tuberose Body Lotion – £70.00
Lilac Path eau de parfum 50ml – £98.00
Mediterranean Honeysuckle eau de parfum –£98.00
Evening Rose D'Or Eau De Parfum 100ml – £230.00
Waterlily Sun EDP 100ml –£140.00
Rose lip balm – £26.00
Rose night table cream and overnight mask 50ml – £60.00