Phewww blimey what is going awnnn. In all honesty the country's gone politics crazy haven't they. You enter a store, overhear someone say "bas hamari vote to Pti" then meeting up with some aunties & hear one exclaim "hum hai sher,SHER". Someone else stating they will always vote PPP & so forth, etc etc.
So, today are the elections. What everyone has eagerly been awaiting.
There's always been an uproar from citizens of Pakistan proclaiming they've had their basic rights seized from them & its true. Where's our free health? Why is it obligatory for those in abject poverty to pay for medication?
Where is our free education? Why are our children whose parents do not hail from privileged backgrounds not entitled to become doctors, engineers, teachers & attain MBA's – hell they can't even obtain primary education so the former professions are far-fetched are they not?
Retaliation was always apparent although it never got anywhere. Not until the Panama papers – gosh I love whoever released those, thankyou baybeh, mwah mwahhh. Money laundering, offshore companies, tax evasion, you name it our leaders had proudly done it. And frankly speaking enough was enough. The whole world observed in anticipation as to what the supreme court judge would rule. Verdict the Court disqualified Sharif from holding public office. What a moment in Pakistan history. The profound effect this had on the people is incomprehensible. You had to be here to see it!
So, what came next? A little bit of this, little bit of that diddle dum diddle do and hey ho "AVENFIELD". Yet another corruption case that shook us once more. Tbh with you it's occurred so frequently now that when the news came out we were all like ohh, more of our money.
She is gorgeous though no doubt!
People were furious, some even took the liberty to stand outside Avenfield shouting humiliating chants which was degradation at its peak – Now I know many are against this certain political leader but be the bigger person, you got your verdict, just calm down a little. I know, I know that's our blood, sweat & tears that went into their luxurious apartment but justice prevailed did it not? Stop lowering yourself.
Basically my darlings lets elucidate what this case entailed : Avenfield the heart of London, Mayfair, home to the rich & famous. Now it's alright if you buy a flat there with your own money but if you're taking someone elses money then that's just dirty – innit! Anyhow, havoc once more erupted with the judge declaring Nawaz Sharif had upto 10 years imprisonment & his daughter Maryam 7.
It's true isn't it – what they say. Every corrupt dynasty has a steep fall doesn't it. They had their high time, they had their fame & glory & now look at their demise. A lie can never be concealed for too long. And hence one would say he was quite passive about the situation.
Moving on, there's many candidates/groups this time around but one juts out from the crowd for me & that's PTI. The ardent struggle of this once world-class cricketer to bring about a Naya Pakistan is commendable. I'm not one to drag someones personal life into the cause but he's made his fair share of sacrifices. Having to choose between living a life close to his wife & children, an unfortunate divorce. A scandalous second marriage – my days I've been hearing information circulating, snippets from her book – LOL so he takes cocaine? Hunnie reckon he inhales helium too before singing in the shower? LIKE COME ON – CREASINGGG :')
I'm not saying I fully support him because I don't. I'm being honest. I'm not 100% sure – so there. But isn't it time to give someone new a shot at running this country? Havent we had enough of corruption? Why & how do those political persons "elude" matters such as murders, corruption, tax evasion? Give this guy a chance lets see what he has to give. I guess we've endured our fair share of tyrannical ruling? And if he doesn't do anything (which I highly doubt) then he can be replaced with another can't he – eh whats his name? That new guy from Karachi that all the girls are going GA GA about? He's actually pretty RAD isn't he, I mean his policies seem good and he's for the youth. We need the youth at this moment. Then we have our Bilawal. Now we must give it to him he is trying his utmost best. He even speaks better Urdu now. His attempt in retaining his mothers legacy, give  him credit for that, I'm being serious. Major respect to him for trying – God bless you.
Lets wrap this up. Before voting, think TWICE.. ok. Don't just vote for someone because you have to vote. I'm going to put it out there my darlings, YES last time I voted for Nawaz sharif – YES, OK youre shocked, get over it. I thought things would change. But Im getting good vibes about this time around. Vote for the man who you feel will bring about a change. Who will not put YOUR hard-earned money into his pockets, who shall not take away our future generations education in selfish greed of making his own children study at "ETON" or better yet "Sandhurst". Who when conversing with the president of the United States of America will not need a piece of paper to read from. Who shall not be slandered or humiliated by every passerby. I implore you mes chers, I beseech you to choose wisely. Whoever you pick, we must respect that. Each have their own opinions and a mature minded person will be fully aware of it. Keep it peaceful.
We need a strong leader. An altruistic man. Who wants the betterment for each and every one of us. Who wants those from other countries to say "Oh Pakistan is pretty damn nice". Who shall bring our country up from a third world to a second & inshAllah a top-notch first world. Who will ( or already has) sacrificed his youth & life for the wellbeing of us. Uff lemme be a weirdo & say it… Jab aaye ga Imrannnnn sab ke jaan
Barhey gi ess qoum ki shaan.Baney ga neya Pakistan! Not hinting anything like 😛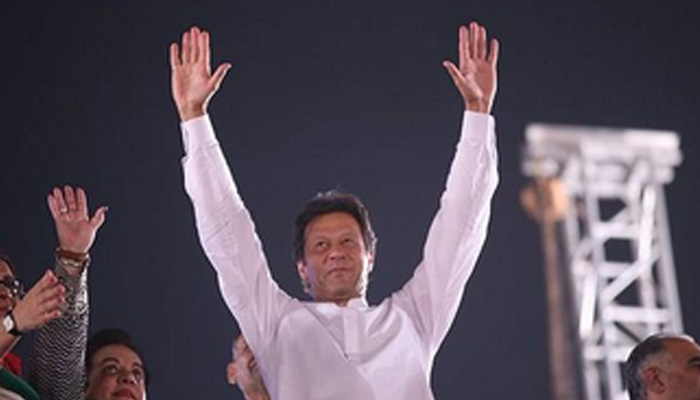 Listen, lemme be cheesy before going. I always say this to my friends and they're sick of me. You ready? DIL RO RAHA HAI MERA – YE MERA PAKISTAN HAI :P.
Keep it peaceful & RESPECT everyones votes & views.
Love your Prin ❤