So, how do I begin this? I'm OBSESSED with King Henry VIII & finally we have another drama based on his life. Game of thrones has officially ended mes chers so here's something to fill the void.
Do you have a keen eye for "The Tudors"? If yes, give this a shot.
What does the Spanish princess entail?
As you're probs aware by now, from the title, its about Catherine of Aragon. How did she end up with King Henry? Or shall we say Prince Harry (before he ascended to the throne).
This drama elucidates the story through the eyes of a woman, which I found quite a refreshing change in comparison to other story-lines, as well as exciting.
The first episode begins in 1501, I adore the fact this series perception of Henry is not one where he's depicted as the rotund, wife beheading despot who carries on marrying repeatedly (also known for his notorious lifestyle) but there's some majestic spiritual part to him which offers a more humanised, sensitive side to Henry we usually cannot see. (Plus he is soo gorgeous, has red hair which for me is literally my DREAM guy 😛 ).
Basically not wanting to give much away for those who want to watch, Catherine of Aragon was the daughter of Queen Isabella, known for her chivalry, bravery & fierceness. She fought her own battles on the field as well as with the pen. Her daughter Catherine has been literally "shipped" off to England to form an alliance through marriage with Prince Arthur (eldest son of King Henry VII and Elizabeth aka Lizzie).
Prince Arthur's days are short lived & Catherine is reluctant to return to Spain (for reasons that I wish not to share yet.. why give spoilers when you can enjoy the series).
Her attention turns to Henry VIII. There's always been a mutual connection from the beginning and I mean, why not let the girl give it a go (although it's her dead husbands brother.. like eww)
We witness the struggles the young budding princess endures, by imploring the pope to offer her & Henry dispensation in order for them going through with their marriage. Referring to this as a grueling task would be an understatment since Henry's grandmother is a bitter tyrant who will stop at nothing to prevent this union from taking place (COW). What's worse, her own sister is her enemy. Fighting occurs between families & houses (is there a striking resemblance to another show ou la laaa).
There's battles, struggles, history, & tragical romances. What more do you want in a drama. Now not declaring this is GoT because it isn't. But for those who enjoy learning about events that occurred in the past, give this a go, you'll probs like it my sweeties.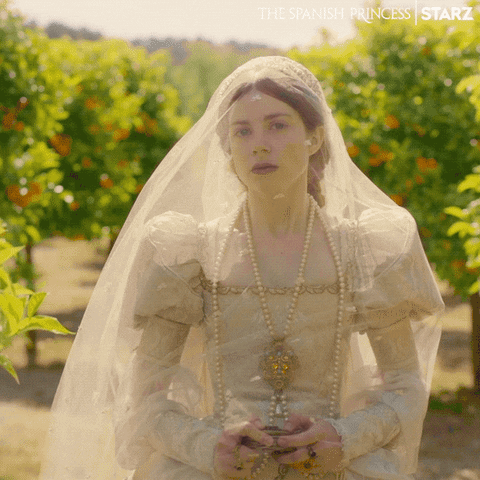 See you later alligator ❤